Kitchen and Bathroom Flooring Ideas
Dicks Carpet One Floor & Home in Diamond Springs is your local retailer for all things flooring. If you are considering updating your kitchen or bathroom then take a look at our flooring options! We have what you need for your next project, and our experts can help you design your space to look exactly how you want it to. With kitchen and bathroom flooring, we have stylish and durable options for you to choose. All of the flooring we carry is made to look stylish as well handle day-to-day life in your kitchen or bathroom.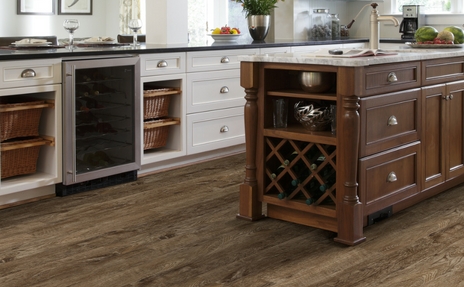 What Flooring Options Can Be Installed in Kitchens and Bathrooms?
Tile is a common option for kitchens and bathroom because of its natural resistance to heat and moisture. Tile flooring is also the easiest floor to care for, so if you accidentally spill something you can simply wipe it up as you go or come back to it later. Tile is versatile and is available in different styles, colors, patterns and more. Ceramic tile is the most common option, but porcelain tiles are more durable and can handle day to day activity better in a household with a lot of activity.
Luxury vinyl is also becoming a favorite among homeowners for kitchen and bathroom flooring. Luxury vinyl flooring comes in wood and stone look options that feature scratch and moisture resistant surfaces. With luxury vinyl you can have the look and feel of authentic wood flooring in your kitchen, but not have to worry about ruining it due to accidental spills. Luxury vinyl flooring is even warmer and more forgiving underfoot compared to tile. Many luxury vinyl flooring options are waterproof, so you can install them in your bathroom without worry about the moisture or humidity causing any damage.